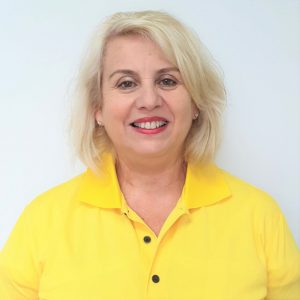 Liz Panov
Liz has been teaching music for over 25 years. At the age of 16 she gained her BMG Diploma in Guitar, and later gained AMusA in Piano & Singing with a high distinction. Liz gained her bachelor's degree in Music Performance & Education, majoring in Voice and later completed her TMusA in Piano.
Liz went on to open her own music school – Panov Music Academy. The school ran extremely successfully where over 500 students were being taught each year. With the success of the school, Liz was invited to join a franchise with Forte School Of Music. During this period, she worked with the International College of Music where she assisted in the syllabus and administration areas of the College.
Liz currently teaches privately at her home studio at Denham Court, teaching piano, voice, guitar & theory/musicianship. She has adjudicated in eisteddfods and talent quests, along with coaching HSC students & university students in Music Performance.
Liz believes that music education is an important aspect of a child's whole education. She understands that her students will go on to study and work in a broad range of fields. What she seeks is to sow the seeds of a lifetime of this art, which she says will be a resource throughout their lives. Liz says believes Mini Maestros helps develop children's abilities related to learning, memory, thinking, concentration, self-expression, management skills and social interactions.