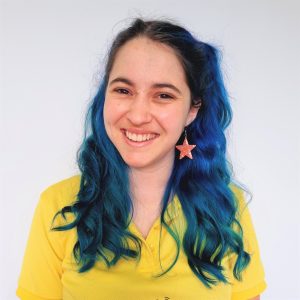 Maddy Kelly
Maddy was born into a family of musicians and music teachers, with both her parents being successful singer/songwriters and performers. She grew up singing and performing with her family and soon began teaching herself a range of instruments. When Maddy finished high school, she began managing and performing in her own band 'Wishful', and released two EPs of original music. Maddy then worked as a full-time musician, and toured through Europe, Australia and New Zealand as a backing singer for blues artist CW Stoneking. She has also performed with Dan Kelly, Chris Watts, Saatsuma and Paul Kelly.
In 2012, Maddy worked as a dance and drama teacher for students aged 3-12 with 'The Little Theatre Company', and there she discovered her love for working with children. Maddy has performed in a number of children's theatre shows, including performances at the Adelaide Fringe Festival and Melbourne Comedy Festival.
Maddy holds a Bachelor in Primary Education and has completed Level 1 in Orff-Schulwerk.
Maddy joined Mini Maestros in 2016 and quickly attracted a strong following for her excellent teaching and engagement of the children. She says that Mini Maestros merges her love of teaching children with her passion of music and performance. She always incorporates the arts into each of her teaching experiences, with the belief that early exposure to music has a significant influence on how children learn and grow in both confidence and communication skills. In 2019 Maddy was appointed  Head of Teaching for Mini Maestros under which she is responsible for the training and mentoring of Mini Maestros teachers. Maddy has been outstanding in this role an is an inspiration for all our teachers as well as her students and their carers.