Nurturing Confident Learners
Mini Maestros offers fun, active and educational music classes for children, including babies, toddlers, and preschoolers, aged 6 months to 5 years of age.
An Australian music program for pre-school kids, Mini Maestros combines music and joyful discovery to encourage confident and happy learners.
Our music classes enhance children's development while they are having fun. Singing, dancing, playing percussion instruments and musical games stimulate the children's creativity and imagination.
Children participate in a carefully planned and sequential program. As well as introducing musical concepts such as beat, rhythm, dynamics, form and notation, our program develops the whole child by encouraging children's speech development, listening skills, social skills and physical skills.
Music making is superfood for a child's developing brain.
By stimulating whole brain development within a social context, Mini Maestros nurtures confident learners.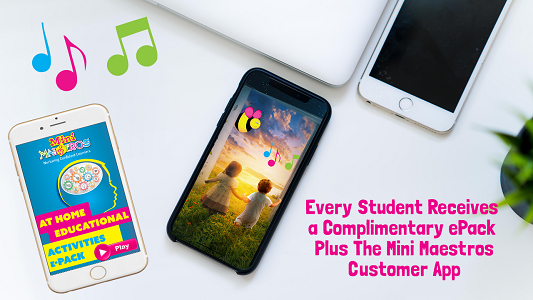 Upon paying for classes every student receives our bonus Mini Maestros At Home Educational Activities e-Pack which contains:
An insightful update on the scientific link between active musical engagement (at any level or age) and brain development
Activities to do at home with your little ones to help support their learning and development (including music tracks)
Some fun colouring and craft activities (including downloadable templates)
The developmental steps observed in our classes so you know what to expect and can look out for your child's progress
Student stories
Our Customer App is a complimentary app for parents or carers with children enrolled in Mini Maestros classes. It contains useful links and information and facilitates interaction with the Mini Maestros community.
Try first? The best way to see what Mini Maestros can offer your child is to purchase a 3 week trial in one of our regular classes. Click here for our regular classes.  For a quick view join one of our Free Come & Try Demonstration Classes. Click here for a list of UPCOMING Free Come & Try Demonstration classes and other promotional events. Come and experience why so many parents and children love attending Mini Maestros!
Learning music is brain food
Term 1 is coming!
Our classes
A parent's view
Find
a Mini Maestros
class near you
FIND