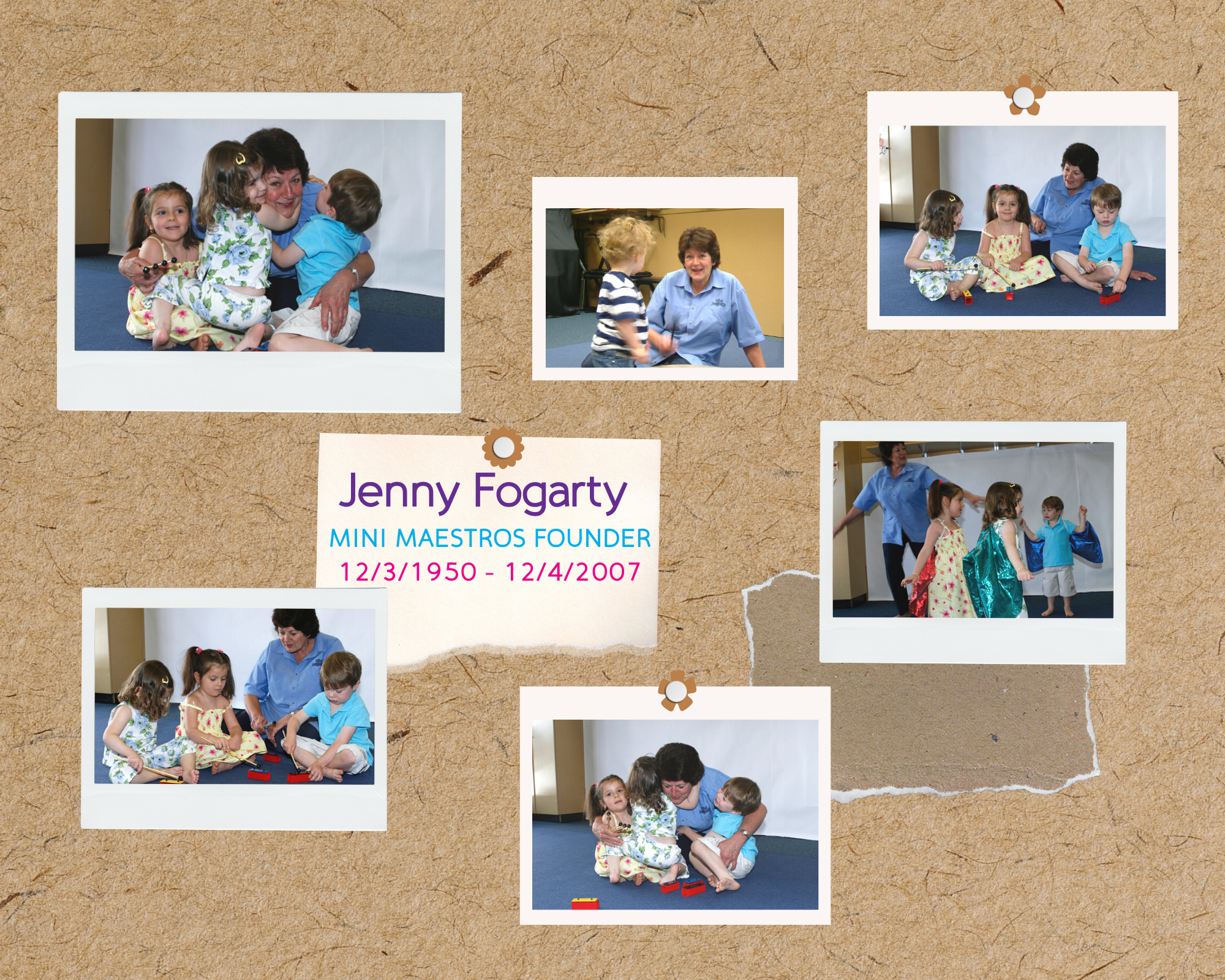 Mini Maestros was founded by Jenny Fogarty (12/3/1950-12/4/2007), a dearly loved and well respected early childhood music education specialist. Jenny passionately believed that music and learning through play were critical tools for childhood growth and development. She worked tirelessly to ensure that as many young Australian children as possible were able to experience the benefits of pre-school music education.
Jenny was born in Adelaide. Jenny's parents instilled in her a deep sense of community and of community service. Music featured strongly in everything that she was involved with, her beautiful voice being her first instrument.
As a child Jenny taught herself to play the guitar and in her late teens performed classic folk tunes.
Jenny trained as a primary school teacher. After teaching at a number of Melbourne primary schools Jenny decided to combine her love of music with teaching and obtained a postgraduate Bachelor of Arts (Music).
It was her desire to find a flexible, family-friendly career that led her in 1984 to teach music at the Vermont South Community House in Melbourne and later at her family home. Jenny wrote her own program using music predominantly from Australian artists and traditional folk songs to introduce the elements of music to very young children in an ordered and practical manner. Within a short time classes had become so popular that she decided to franchise Mini Maestros, giving many others the opportunity to combine a love of music and teaching with the flexibility and rewards of running their own business.
For the next 23 years Jenny continued to develop and expand the Mini Maestros program. In 1994 Jenny commenced training others to present Mini Maestros classes. Three of the first people to use the program had been mothers in Jenny's private classes. One of these women, Judy O'Neill, continues to teach the program today and is an important mentor and ambassador for the Mini Maestros system.
Jenny's untimely death aged 57 was deeply felt in the early childhood music community as well as through the vast community of past and present teachers, students and students' carers, all who had been immeasurably touched by her music education. Jenny was the epitome of a woman juggling career, family and community service and excelling at each. It was impossible to resist her sense of humour accompanied by a deep, infectious chuckle. Her ability to inspire and motivate her students and staff through wit and boundless energy was legendary.
Jenny's legacy and dreams live on through every Mini Maestros class and are carried by the thousands of children who participate in the program each year.
Jenny's important work in continuing to develop the program has been carried on by Jennifer Smith, our Music Director and Maddy Kelly, our Head of Teaching, with assistance from our experienced and passionate teachers. It means that today we have a program of exceptional quality, a program which is outstanding in its field and a program that is taught internationally as well as in Australia.